Assessment ICAO English - aviation English
Step 1: Registration
First, we need to get to know you a bit.

You'll receive an email with all the details. You will also be contacted by one of our language examiners shortly afterwards.
Step 2: Exam
The ICAO English exam itself does not take more than 25-35 minutes. To be safe however, it is better if you set aside at least an hour. We are flexible and able to provide the ICAO English Online exam on an ad-hoc basis.
Step 3: Rating
International regulations require the ICAO English exam to be rated by at least two independent language assessors. First rating is performed during with the exam by language proficiency examiner. Second one is done remotely.
Step 4: Certificate
At the end of the language proficiency exam rating process you will be issued a ICAO English certificate. Your authority is also notified about the result. You will receive your certificate by email. You will also get the temporary certificate.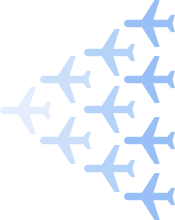 AERO LANGUAGE
Aero Language means the aviation communication.  We are specialists in language proficiency and radio-communication.
Aero Language provides language courses and language proficiency assessments to pilots, ATCos, cabin crew, and aviation technicians. Aviation English is something we have a passion for.
I need ICAO English Level 6
A valid ICAO English language proficiency - is a mandatory requirement to fly internationally. The validity of the ICAO English is as important as is the validity of type rating, or medical.
We know that many pilots leave the ICAO Exam to the last minute. That's why we are providing all our ICAO English assessments Online even with short notice. We are providing ICAO English, ICAO Slovak and EASA IR aviation English exams and courses