Assessment ICAO English - aviation English
Step 1: Registration
First, we need to get to know you a bit. We need to know your name, who you are, what profession you have, and some further information. The application is an official document which can be filled out electronically on our website. However, we prefer if you send it as an interactive PDF format. In ProfiPilot group, we have a system of data protection in accordance with GDPR standards. Your personal data are therefore safe with us.
Step 2: Exam
The ICAO Exam takes around 30 minutes and it can administered literally anywhere. An examiner assesses your language skills and a rater rates your exam based on data received from the examiner.
Step 3: Rating
All exams must be rated by two different persons. If a rater is present at the exam personally, you get the rating right away. In other cases, you get the rating 72 hours after the exam at the latest.
Step 4: Certificate
After the the ICAO Exam rating process, we issue a certificate stating your ICAO English Level. The certificate is an official document used to endorse the qualification into your pilot license.

After passing the exam, you don't need to worry about your ICAO Level validity for another couple of years...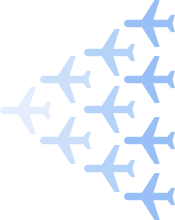 AERO LANGUAGE
Aero Language - providing required language training and exams for pilots, ATCs, cabin crew, and aviation technicians.
Aero Language is a registered trademark of ProfiPilot under which the ICAO English exams and EASA IR aviation English exams are provided.
Aero Language is a synonym for aviation communication. We are a team of aviation professionals from various branches of aviation. We are specialists in training and examination of language proficiency and radio-phraseology.
I need ICAO English Level 6
A valid ICAO English qualification - the ICAO English language proficiency - is a requirement to fly internationally. The validity of the ICAO English is as important as is the validity of type rating, or medical.
You agree on a place of exam with our examiner in advance. In Aero Language, we are flexible. We know that many pilots leave the ICAO Exam to the last minute. If needed, we can provide the ICAO aviation English exam even at your place at home. Just give us a call.